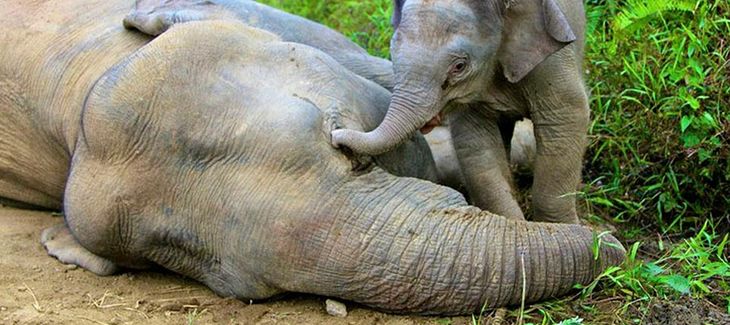 The National Elephant Conservation Centre at Kuala Gandah was established by the Malaysian Department of Wildlife and National Parks (DWNP) in 1974. This sanctuary is located within the bio-diverse and protected Krau Wildlife Game Reserve in Lachang, Pahang and is easily accessible via a one and half drive from Kuala Lumpur city.
The Kuala Gandah elephant sanctuary is the only one of its kind in Malaysia. The sanctuary is dedicated to the protection and rehabilitation of the Malaysian wild elephant, designated as a critically endangered species. It is estimated that only about 1200 wild elephants remain on Peninsular Malaysia today. Developmental encroachment on their natural habitat has brought these giants into conflict with humans. Records indicate that the NEEC through its efforts over the past three decades has located, rehabilitated and released more than 700 Malaysian wild elephants. The rehabilitated elephants of Kuala Gandah are eventually relocated to safer environments like the Taman Negara National Park where the chance of conflict with humans is limited
A trip to the Kuala Gandah elephant sanctuary is a must-do on any trip to Kuala Lumpur especially if you are traveling with children for the center offers visitors a wonderful chance to get up close and personal with these giant beasts, whose population is in peril.
A guide to visiting the Kuala Gandah Elephant Conservation center
·
The Kuala Gandah Elephant Conservation Center is located in Lachang, Pahang and can be easily accessed from Kuala Lumpur City.
·
The sanctuary offers free admission to members of the public. However you should try and call before you visit, for the center allows only 120 visitors to observe and interact with the elephants every day. The center doesn't charge admission but you are encouraged to donate generously as your funds contribute to the maintenance of the facility and its animals.
·
The moment you get to the sanctuary you are required to register at the main building, after which you are given a red or yellow sticker. Holders of the yellow stickers are only allowed to observe the elephants while holders of the red stickers can feed, and help mahouts with the bathing of the elephants.
·
The center is open at 10.30 am every day but interactive activities with the elephants are usually scheduled for the afternoon.
·
Aside from enjoying a personal interaction with the elephants, visitors are also encouraged to attend a video presentation on the center's elephant translocation activity which was produced by the center in 1996 in conjunction with National Geographic.
·
A visit to the Kuala Gandah Elephant sanctuary can be combined with a visit to Deerland Park which is located close by and offers the chance of interacting with animals like deer, sun bears and reptiles like pythons.
Contact information:-
National Elephant Conservation Centre (NECC)
Department of Wildlife and National Parks (DWNP/PERHILITAN)
Kuala Gandah, 28500 Lanchang
Pahang Darul Makmur
Tel: 609-2790391
Fax: 609-2790398