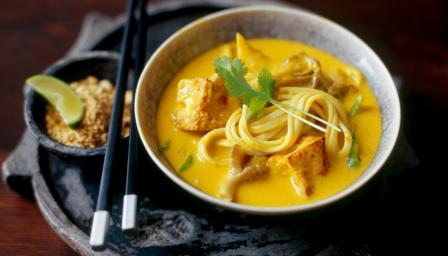 If you follow vegetarianism you might feel a bit apprehensive about visiting Malaysia. However your fears are unfounded for, vegetarian food is abundantly available in Malaysia. Additionally, most vegetarian visitors also get a chance to sample Malaysia's many local delights without comprising their vegetarian status.
As you are aware that Malaysia is vibrant multi-ethnic and multicultural nation whose population is composed of Malays, Chinese, Indian and the Orang Asli or indigenous peoples. These various ethnic groups all have their own cuisines and while Malay cuisine is decidedly meat-based, the Indian and Chinese cuisines of Malaysia offer many dishes that conform to the needs of a vegetarian visitor to Malaysia.
Chinese vegetarian fare
Many Chinese folk are practicing Buddhists and hence tend eschew meat products. As a result, many Chinese restaurants in Malaysia offer Chinese vegetarian eats fashioned out of substance known as 'mock meat'. This Chinese mock meat is made out of wheat and looks like meat but is entirely vegetarian and quite tasty. If you are holidaying in Kuala Lumpur, you may want to try this vegetarian Chinese cuisine at restaurants like Nature's Vegetarian Café in Bangsar, an eatery known for its mouth-watering vegetarian dim sum and Yishenshu, a vegetarian fine dining eatery which is located at the One Utama mall in Petaling Jaya but which also has outlets in Ipoh and Klang.
Malaysian Hawker Fare
If you are tempted to try Malaysia's famed hawker fare, you can satisfy yourself with vegetarian options like Fried Carrot Cake, which is in fact not a desert but a savory dish fashioned out of daikon radish and rice flour. Yet another vegetarian option available at the Malaysia hawker stalls is a dish known as popiah which features wafer-thin pancakes made from wheat flour and stuffed with stir-fried turnip, steamed jicama, bean-sprouts, French beans and sweet and spicy sauces. Some hawkers garnish these fresh spring-rolls with dried shrimp or shrimp paste but you could ask them to leave this out and more often than not they will happily comply.
Another popular dish of the Malaysian hawker stalls is Nasi Kandar which consists of white rice served with an assortment of spicy curries. Most Mamak or Indian Muslim hawker stalls offer a plethora of meat, poultry and fish curries as components of their Nasi Kandar. However, more often than not they also have various vegetarian curries that feature ingredients like spicy bean curd, okra, broccoli and brinjals,. White rice served with these vegetable-based curries, makes this dish appropriate for consumption by vegetarians. The Pelita chain of restaurants which offers Nasi Kandar along various other Indian Muslim as well as Southern Indian eats, has a presence in nearly all regions of Malaysia. Such is the popularity of the group that they have recently opened a branch in the Southern Indian city of Chennai as well.
Indian Malaysian fare
Malaysia's Indian population has its origins in the Southern Indian states of Kerala and Tamil Naidu. Indians from the Southern part of the subcontinent were brought to labor in the plantation and railway projects of Malaya by the British in the late 19th century though in cities like Penang, Indian traders formed settlements way back in the 16th century. Malaysia's southern Indian cuisine has a strong vegetarian component and features dishes like idli(steamed rice and lentil dumpling), thosai(rice and lentil pancakes), uttapam (thick rice pancake). These rice-based vegetarian eats are available at most Malaysian Indian restaurants found all over the country.
Additionally many Malaysian Indian restaurants also offer set meals called Banana Leaf cuisine where a rice-based meal is served on a banana leaf and features with an assortment of vegetarian curries and lentil soups (known as dhal). Restaurants like Sarvaanaa Bhavan, Bakti Woodlands Vegetarian Café are popular haunts for Southern Indian food in Malaysia.
Resource for Vegetarian food in Malaysia
The Happy Cow website offers listings and reviews of more than 600 vegetarian restaurants scattered all over Malaysia. Be sure to check it out if you are visiting Malaysia as a practicing vegetarian.
http://www.happycow.net/asia/malaysia/