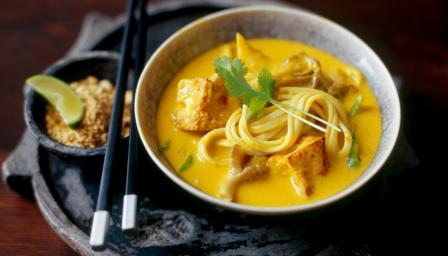 If you are a vegetarian for health or religious reasons, the prospect of holiday to Malaysia shouldn't fill you with terror. The rainbow nation of Malaysia is composed of a vibrant multi-cultural and multi-ethnic society and the Malaysian population profile features various ethnicities like Malays, Chinese, Indians and the country's indigenous aboriginal people-the Orang Asli. These diverse population groups co-exist in harmony as they follow their individual way of life featuring distinct customs, traditions and cuisines. As a result vegetarian food options are plentiful in Malaysia. Vegetarian visitors can in fact eat very well in the country without compromising either their religious or health beliefs.
Vegetarian foods-Chinese Cuisine
It may come as a surprise to you, but many Chinese people follow the Buddhist faith and thus choose to follow vegetarianism. As result many Chinese restaurants in Malaysia either serve an all-vegetarian menu or then offer a plethora of vegetarian preparations that feature ingredients like tofu(apaneer-like substance made from soy milk), fresh vegetables and mock meat which as its name suggests looks like meat but is entirely vegetarian for it its fashioned out of a wheat protein. If you are visiting Kuala Lumpur, you can sample delectable vegetarian Chinese fare at restaurants like the Dharma Realm Guan Yin Sagely Monastery located within close proximity to the city's prominent landmark, the Petronas Towers, which offers an inexpensive, sumptuous buffet of various Chinese vegetarian and vegan delights, at lunch time daily during the week. Other recommended Chinese vegetarian restaurants in KL include Little Heritage House (Nyonya cuisine), Wok Hei (Hartamas Shopping Centre) and Yishenshu at One Utama mall in Petaling Jaya.
Indian vegetarian in Malaysia
Malaysia's Indian population is largely of Southern Indian origin hence vegetarian Southern Indian eats are widely available are numerous Indian restaurants that dot Malaysia's dining landscape. Idlis, Dosas (known as Thosai in Malaysia),Vada are familiar dishes available at various Malaysian restaurants like Sarvaana Bhavan and Annalakshmi(KL), Hotel Malaysia(Langkawi), Sri Ananda Bhawan, Madras New Woodlands Restaurant (both in Penang). Aside from South Indian vegetarian fare, many Malaysian Indian restaurants also specialize in North Indian fare and offer vegetarian delights like paneer palak, chole, poorie and more. Some well ranked North Indian eateries in Malaysian tourist hotspots like Kuala Lumpur and Penang include restaurants Bombay Palace and Passage thru India (Kuala Lumpur) and Maharaja and Gem Restaurant House of Fine Indian cuisine (Penang)
Check reviews and recommendations of vegetarian restaurants in Malaysia at
http://www.happycow.net/asia/malaysia/
Happy eating!